Ring Out the Old, Ring in the New!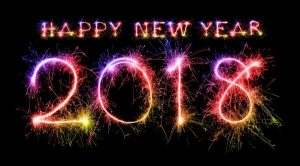 January again! That time of year when we make resolutions, then likely promptly break them again. Resolutions, if we're to believe what we hear, are rarely successful and frequently don't even survive till mid-January. What's so special about January 1 anyway? It's just another day. Yet there is something about the turning of the year that makes us think of fresh beginnings, new leaves to be turned over, etc.
Here at Prompt Proofing, we are choosing to take the beginning of 2018 as a chance for a revamp. In October of last year, we marked seven years in business and there was definitely something of a seven-year-itch in the air. Over seven years we have established a reputation – of which we are justly proud – for producing high-quality work to very tight deadlines. Those who have used us over the years know that they can rely on us to produce the goods, on time, and to a reliable standard. We managed to stay affordable while also being fast and professional – no mean feat. Our tag line says it all: "professional, efficient, affordable".
However, our seven years in the business has shown us that the clients who use our writing services fall into two categories. The first group is very happy that we take the burden of writing off their shoulders, leaving them free to run their business. This group is happy with our existing business model. There is, however, another group that would love to have – in fact, expects to have – more input and the opportunity for feedback. This group treats our documents as first drafts; they want us to provide the basis for their content but they definitely want involvement and a greater level of consultation. We are therefore revising some of our policies to offer alternative services for customers in this category.
Regarding our proofreading and editing services, we are combining the two. Some clients request, and clearly only need, simple proofreading – a quick check for inadvertent errors and typos. We still offer that. However, some have wanted us to offer at least some level of what we would consider to be 'light' editing. This was a grey area for us; we were, in effect, offering light editing for proofreading rates, which was clearly not sustainable. Going forward we will be offering clients the choice as to how much editing they want – from zero to a full edit. As we are moving to billing by the hour instead of by the word, clients can simply choose their level of editing and will be billed according to the extra time taken – a fairer solution for all parties. We have spent considerable time working out some revisions to our services that will be fair to all of our customers and give them a range of options. While many of the changes we are making will be in the 'fine print' and likely affect only a few, we have given below a simplified version of the major changes you can expect to see in 2018:
Billing– we are moving to an hourly rate rather than a 'per word' rate for both writing and editing – the exception to this will be the writing of press releases, one of our most popular services, which will continue at a fixed price.
Increased options – we will be offering an enhanced service for all of our writing services (including press releases). The turnaround time will be a minimum of five business days but clients will have the opportunity for greater input before and during the project and will receive a first draft on which they can give feedback. For those not in a desperate rush this will be an attractive option.
Editing – as mentioned above, clients will opt in advance for the level of editing they require (or simple proofreading).
Turnaround times – we will continue to offer our rapid turnaround times for those in a hurry (12 hours for editing and 24 hours for writing). However, there will be restrictions on these faster times to accommodate two editors in different time zones, who also occasionally need to sleep.
We are confident that our changes will benefit all of our clients and are excited to enter 2018 with exciting new services. We look forward to taking care of your writing and editing needs for the next seven years!
Happy New Year!