Pat
Managing Partner
"Creating Prompt Proofing has given me the outlet to use my education, experience and love of language to help people and businesses meet their needs."
Pat has a background in English and ESL teaching and this passion for helping students to develop their written and spoken English skills led her to establish   Prompt Proofing in 2010. She saw an opportunity in the market to create a copywriting business with a personal touch that focused on quality, efficiency and value for money.
Working with her daughter, Anna, who has communications experience from both media and corporate public relations angles, has proven the perfect combination of experience, skills and business savvy to ensure Prompt Proofing is always providing the best service possible to its valued clients.
"First impressions count and providing clients with a well-written, dynamic web page, blog post, article or press release to promote their business is tremendously satisfying."
Follow Prompt Proofing on Facebook for the latest blog posts, engage with Pat on Twitter as she shares everything from business news to thoughts on my latest reads, or connect with Pat on LinkedIn – she always appreciates endorsements and testimonials, and is happy to be a part of your network.
Anna
Managing Partner
"I'm an entrepreneur at heart, which helps me understand our customers. I have enjoyed flexing my entrepreneurial muscle with Prompt Proofing and my own private health coaching practice."
Anna has enjoyed being a part of the marketing and public relations world from all sides. Since graduating from the University of British Columbia - one of Canada's top post-secondary institutions - with a BA in English Literature, Anna has gone on to teach English as a Second Language (ESL), work as a journalist and news editor, serve as chief editor for a public relations company and work in public relations for a real estate development company.
 "Being an online business owner myself, I am right there with our clients when they are explaining their goals to us, and I know how critical their messaging and language is to help them reach their audience."
No matter your business, the importance of a strong digital presence cannot be overstated. Nowadays the audience is also wiser than ever before and sees through 'marketing speak' very quickly. What draws the customer these days is quality content that is informative and helpful - and if it happens to come from your business, then that's an excellent way for them to gain awareness of what you offer.
Anna is all over social media. Find her on Instagram, Twitter, Facebook and LinkedIn.
Bill
Company Mascot
Bill is the office cat who reminds the team at Prompt Proofing why they do what they do - what he wants is what the team delivers . And that is quality work delivered with efficient timing and with little to no energy required from him. 
As such, Bill's cheerful presence and the strong relationship he has with the team serves as a model for the Prompt Proofing staff: they always put the customer's experience first and they always deliver quality work on time and with a smile.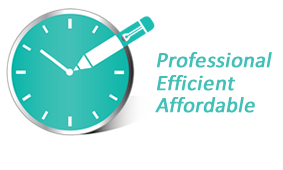 Prompt Proofing is here to help you with all of your content needs and has been in business for five years with a full roster of satisfied and loyal clients to back this up.
Contact Prompt Proofing today to see how Pat and Anna can help you.
Be sure to like Prompt Proofing's Google+ page or follow us on Twitter or Facebook!