No, Sadly You Can't Have It All!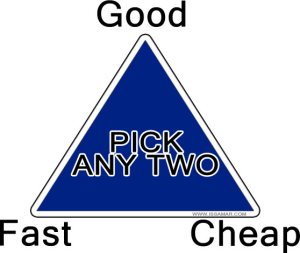 You may be familiar with the constraint triangle. You can have it fast, you can have it cheap, or you can have it done well – pick any two. (But no, sadly you can't have all three.)
Actually, at Prompt Proofing we insist on doing things well regardless; therefore the combination of fast and cheap is sadly not available to our customers. We can do fast and good, but it will naturally cost more. We can also do cheap and good, but that will take longer.
Our updated pricing system and streamlined service choices give more options to our clients and – while they can't have all three, and we don't think anyone wants the fast and cheap but not good combo -they can definitely opt for good and fast, or for good and cheap. We hope this is a reasonable premise!
Our expedited services – 24 hours for writing and 12 hours for editing – are pricier. We have to reschedule, not only other ongoing projects – for customers who've elected cheap and good – but also our own personal commitments. If I have to work through normal sleeping hours (in all honesty I do try to avoid that – it can be self-defeating!) or have to work round an important appointment, reschedule a root canal (oh, good!) or miss a daily workout, or a much-anticipated social occasion then, at least, I can console myself with the fact that I'm being paid well to do so. Additionally, we know that we have customers who also work round the clock and who frequently need something at a moment's notice, and we're happy to oblige them – while also producing high quality.
On the other hand, we also have customers with budget restraints and, coincidentally, they're often not in so much of a rush. We can offer these customers our reliably high-quality work at a price they can afford because we have a little longer and can schedule their project to fit around other commitments. They also get "good".
But, no, sorry you can't have it all – if you're demanding all three, then something's got to give – and we don't want that to be the quality of our work. Just our thought for today!